Process Bus and IEC 61850-9.2 LE for Protection relays
Now available in Easergy MiCOM P40 Protection Relays for Digital Substations
Designed for digital substations with demanding protection applications in Utilities, Easergy MiCOM P40 with Process Bus offers a reliable solution compliant to latest standards of IEC 61869 & IEC 61850 9-2 LE including PRP redundancy and cyber security. Available in Easergy MiCOM Feeder protection, Line Differential Protection, Distance Protection, Busbar Protection and Transformer Protection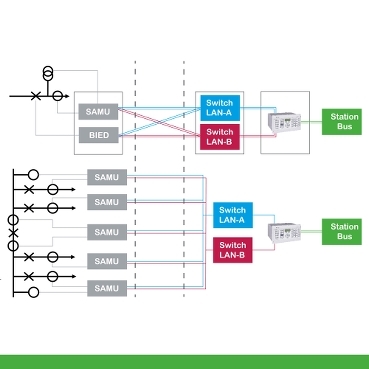 Features

Process Bus is a key brick for Digital Substations in electric utilities and is a future ready solution for Network Automation. It provide opportunities to improve the overall cost of designing, installing and testing of protection and control systems.

Customers can benefit from Process Bus by improving personal safety, linked to converting analog power measurements to digital communication signals and transmitting on a fast and redundant Fiber Optic network with the support of a SAMU or Merging unit. Information exchanged between Primary Equipment and Control Centers is not only safer, but shared using secure communication enabled by products that conform to latest Cyber security standards. Such products offer full interoperability with other manufacturers to make systems more flexible & user friendly.

The products are designed to the latest standards: IEC61869, IEC61850-9-2 LE use sampled values (SV) for calculation and protection in electrical networks.

With more than 100 years experience and more than 600,000 relays in the field, Easergy MiCOM protection relays offer a reliable way to introduce Process Bus in your network. At Schneider Electric, reliability and customer satisfaction is our top priority, especially whilst offering the latest features and products that take a step forwards in reliability and safety.

Benefits

Up to 40% Cost savings on protection & control installations
- Raw materials significantly reduced, copper reduction with Ethernet cables
- Cubicle engineering and wiring verification reduced by as much as 70%

Improved safety of your personnel
- Replacing analog with digital sampled values, with the inherent isolation from the primary circuit allows dangerous levels of voltage and current to be completely eliminated from the protection cubicle
- Safer, even in the case of maintenance or replacement, signals are as simpler and safer to connect and reconnect

Full interoperability in multi-vendor systems
- Complete multi vendor environment thanks to full compliance with process bus latest standards IEC61869 & IEC61850-9-2 LE

Improved reliability & availability of the protection network
- Ethernet standardization brings redundancy and security of the communication channel so that you are never without mission critical process bus data
- Process bus can be combined with PRP (Parallel Redundancy) in Easergy MiCOM P40
- Combine with our advanced Cybersecurity features, like RBAC means all that data has not only redundancy, but is also fully secured to the latest international security standards

Applications

Process bus is a critical brick for building Digital Substations in demanding applications within electric utilities and energy intensive customers. Easergy Micom P40 offers a complete range of protection with process bus and cyber security at all voltage levels, with protection applications including:
- Feeder Protection
- Line Differential Protection
- Distance Protection - Busbar Protection
- Transformer Protection

Easergy MiCOM P40 supports the full flexibility needed to work within multi-vendor network components in order to reduce costs and make protection and control systems safer and more reliable with enhanced security.