Acti 9 iTR
Transformers
DIN rail, low voltage safety transformers to power emergency lighting systems and transformer modules for distribution board mounted bells and buzzers.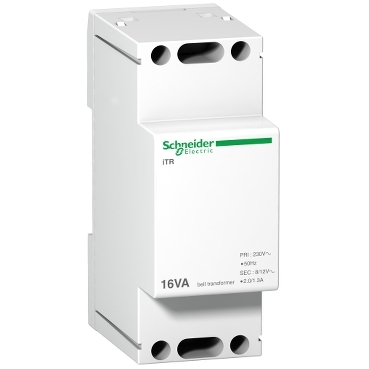 Features

Acti 9 iTR transformers are DIN rail compatible and can be mounted directly in the electrical distribution panel. Their technical highlights and features include the following:

Input (primary) voltage: 230V AC
Output (secondary) voltages: 8, 12 or 24V AC
Complete insulation between primary and secondary circuits
Power: 4, 8, 16, 25, 40 or 63VA
Resistant to short-circuit currents thanks to the built-in device
Compliant with IEC 61558-2-6.





Benefits

Acti 9 iTR transformers:

Are simple to install and use
Are available with a wide range of choices
Are designed to be robust and long lasting: install once and forget
Offer the peace of mind that comes from using a reliable, well designed, fully modular system: expansion and modification of an installation is not only possible but is simple and rapid to perform.

Applications

Control and command of electrical circuits in all industrial and commercial buildings.